Previously published in Success Magazine by H&H Color Lab, 2018
Setting the mood, and the expectations with in-person sales is only part of the picture. Enjoy this article, previously published in our 2018 Success Magazine, as Alissa Cincotta leads you through the process of exceeding expectations with your in-person sales sessions. Just because there is a pandemic, does not mean you can't have small, intimate sales sessions, keeping safety in mind at all times of course!
---
The path to a successful in-person sales experience doesn't have to be difficult or intimidating. There is nothing more powerful than bringing your clients into your studio to give them a peek at their images for the first time on a big screen. But the in-person experience is so much more than just viewing images. Below are my top tips for ensuring a stellar client experience.
Emotion always sells.
Imagine you have the biggest day of your life photographed and your images are ready to view two weeks later. What are the things that will stand out to you? Imagine simply getting a link to an online gallery—or, worse, meeting up with your photographer so she can hand over a thumb drive with all of your images on it. Sure, we provide both to our clients, but not until they have been in our studio and received the royal treatment.
Here's how you should think about it: These people just spent thousands of dollars on your carefully honed craft. Are you okay with simply handing over a thumb drive as your final product of your artwork?Where is your sense of pride as an artist?
Two weeks after their session (whether it's a wedding, engagement session, senior portrait session, what have you), your clients are still on cloud nine from the experience of the shoot. Play on those endorphins. Go all out in setting up your room and presenting your products. You want this to be the most unforgettable experience for them.
The most impactful piece of our in-person sales process is to have their signature image up on our 60-inch TV screen as they enter our preview room. Our clients walk into a room with images covering the walls and tables, see a beautiful image on the screen, then realize, "Oh my gosh, that's us!"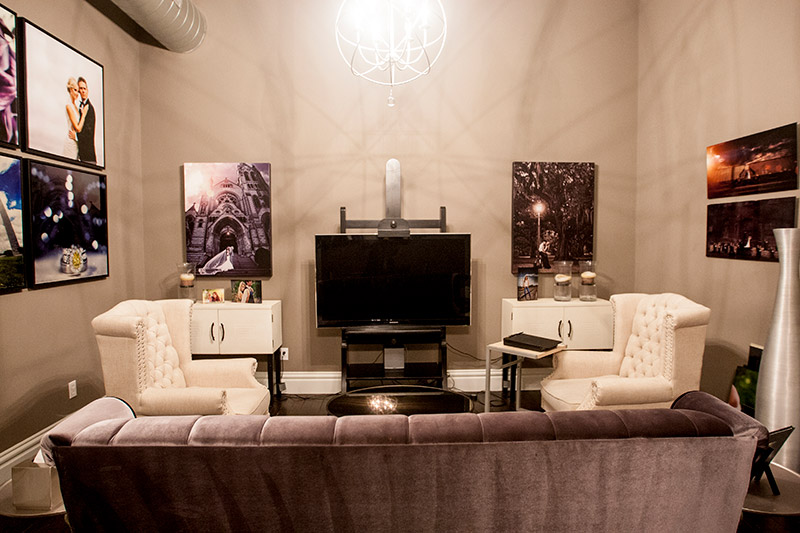 Atmosphere is everything.
The mood of your sales/preview room is also very important for the client experience during the in-person sales session. We have a 250-square-foot room in our studio dedicated to in-person sales sessions. The walls are covered with dramatic images printed on the various products we offer, and the tables are full of sample albums and other products in our packages. We designed it to feel like a living room, with a soft velvet couch and a fireplace mantle to showcase how a large print looks above it. The décor is modern, yet warm and inviting. You want your clients to feel comfortable.
Upon arrival, I greet our clients with a glass of champagne, wine or beer. Don't rush right into the sales session. Give your clients a chance to sit down and soak everything in.
Don't forget to engage with your clients. There's nothing worse than getting so caught up in your nerves that you forget to have a conversation with the people who are about to give you money.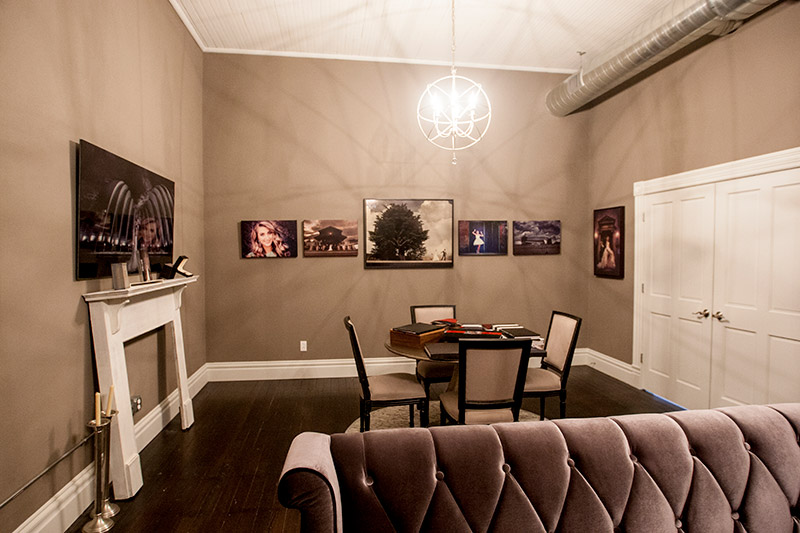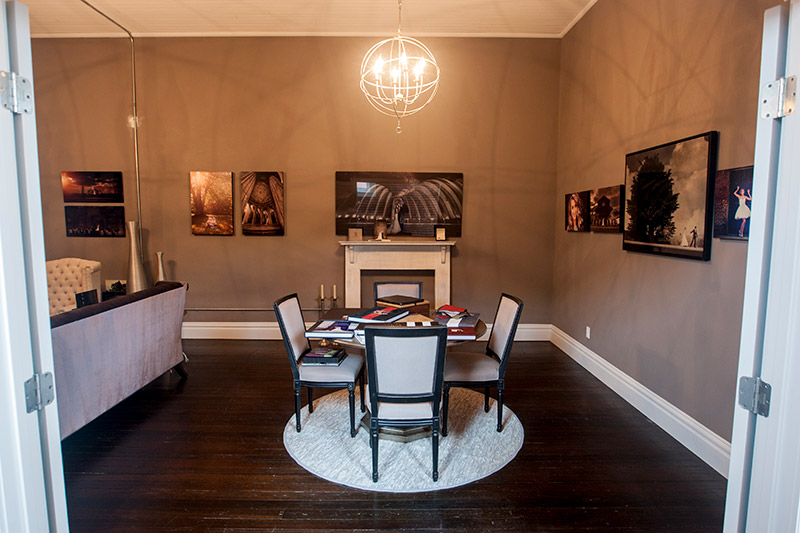 The customer experience is more than just good customer service.
Take your customer service to the next level so you stand out from the crowd. Provide a one-of-a-kind experience. People want to feel special, like they are in good hands, and good customer service is only one part of the pie.
For example, if your client hires you to photograph their wedding and you are friendly and helpful throughout the process, that is good customer service. But if you go the extra mile and invest in branded luxury packaging when you deliver their products, always respond in a timely manner and exceed expectations of delivery dates, that is superior customer experience.
Be the trusted adviser.
After your clients have viewed their images, it's time to start the sale. This part should feel organic, never forced. This is your opportunity to become the trusted adviser, their advocate. Your clients should feel guided through the process. We overwhelm our clients with amazing images in the beginning so that by the time the selling comes around, they are asking themselves, "Which images should I pick to fill this package?" Get them in a mindset to look to you for guidance, not look for ways to leave without buying anything.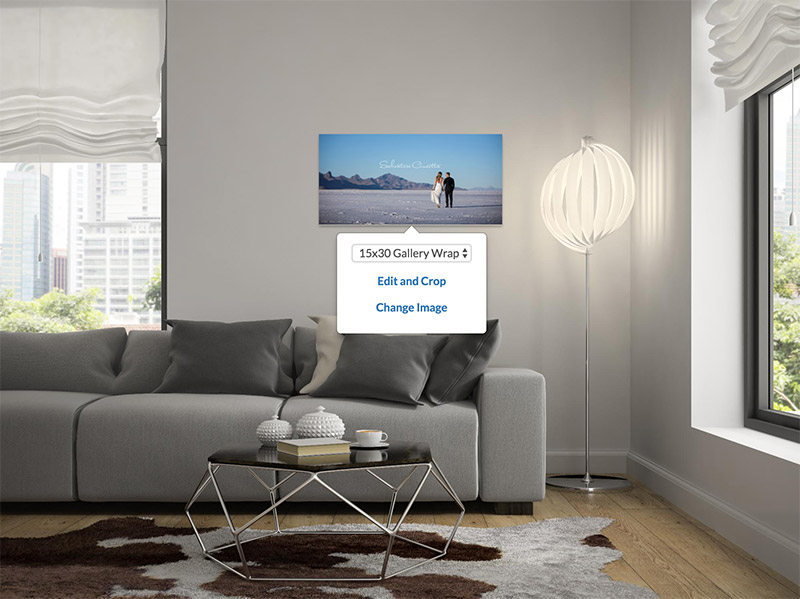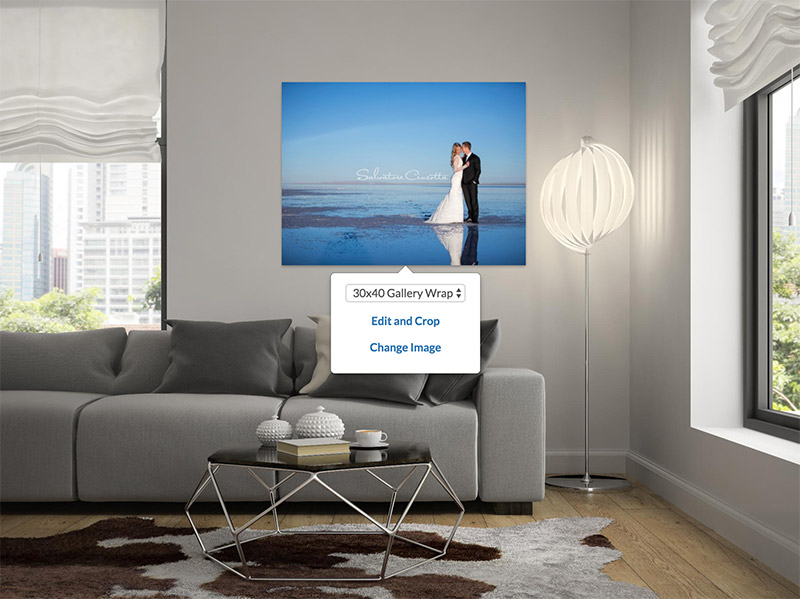 We use a tool called N-Vu for our in-person sales sessions. With N-Vu, we can show our clients in real time what their images will look like on their walls. Using Room-Vu (a very powerful tool included with our annual N-Vu subscription), I am able to use a photo of a wall in their home and show their favorite images in various sizes where they would want to hang them. This is also huge for selling large prints to your client, as most clients tend to think 11×16 prints are "big enough."
In-person sales and the power of printed products are becoming the norm. It's time to focus on the client experience and elevate your brand from the crowd.
Alissa Cincotta graduated with a degree in television production and has been a part of the Salvatore Cincotta team since 2011. Today she is behind the camera regularly as Sal's second shooter and as the executive producer and camera operator for Salvatore Cincotta Films, Behind the Shutter, Creative Cinc and Level Up. Alissa is the editor-in-chief for Shutter Magazine and serves as Sal's right hand, managing daily operations within the family of Salvatore Cincotta brands.